Rainy days in Aberdeen are not uncommon, and while they might make you want to curl up with a blanket and a hot drink, they can also be opportunities for productivity and exploration. In this article, we'll explore how to turn those gray, rainy days into valuable experiences. We'll provide you with ideas that go beyond binge-watching TV shows or scrolling through social media. Rain or shine, there are plenty of ways to make the most of your time in Aberdeen.
I. Indoor Cultural Exploration
A. Museums and Galleries
Aberdeen boasts a rich cultural heritage, and its museums and galleries are the perfect places to dive into it. Some renowned ones include the Aberdeen Art Gallery, which houses an impressive collection of artworks, and the Aberdeen Maritime Museum, where you can discover the city's maritime history.
Exploring these institutions isn't just enjoyable; it's also productive. Learning about art and history can broaden your horizons and stimulate your mind. You'll gain insights into the city's past and present, and perhaps even find inspiration for your own creative endeavors.
Don't forget to keep an eye out for special exhibits and events. These often provide unique perspectives and experiences that can make your rainy day visit even more rewarding.
B. Libraries and Bookstores: A Rainy Day Haven in Aberdeen
When the raindrops tap against your window in Aberdeen, it's easy to feel like staying indoors is your only option. But don't let the weather dampen your spirits; rainy days can be the perfect excuse to dive into the world of books. In this section, we'll explore how Aberdeen's libraries and bookshops can turn a gloomy day into an enriching experience.
1. Notable Libraries and Bookshops
Aberdeen is home to several noteworthy libraries and bookstores, each with its own unique charm. Some of the must-visit spots for book lovers include:
Aberdeen Central Library: Located in the heart of the city, this library offers a vast collection of books, periodicals, and a tranquil reading environment.
The Bookmark: A delightful independent bookshop that features a carefully curated selection of books, often including hidden gems you won't find elsewhere.
Waterstones Aberdeen: A branch of the popular bookstore chain, Waterstones is a haven for both bestsellers and niche reads.
2. The Benefits of Reading and Research on a Rainy Day
Rainy days provide the perfect backdrop for diving into a good book or conducting research. Here are some compelling reasons why you should consider it:
Escape and Imagination: Books have the power to transport you to different worlds, offering an escape from the rainy reality outside. Whether you're into mysteries, romance, or historical tales, a well-written book can whisk you away.
Knowledge and Learning: Reading is an excellent way to acquire new knowledge and skills. Pick up a non-fiction book on a topic you're curious about, and you'll be amazed at how much you can learn in a single rainy afternoon.
Calm and Relaxation: The rhythmic sound of rain can create a soothing atmosphere, perfect for getting lost in a book. It's a chance to unwind, destress, and recharge your mental batteries.
3. Areas for Self-Improvement Through Reading
If you're wondering how to make your rainy day reading even more productive, consider these areas for self-improvement:
Professional Growth: Read books related to your field or industry to stay updated and gain a competitive edge in your career.
Personal Development: Explore self-help and personal development books to work on aspects like time management, communication, or mindfulness.
Cultural Enrichment: Dive into literature from different cultures to broaden your horizons and gain a deeper understanding of the world.
Skill Building: Pick up how-to guides or instructional books to acquire new skills, from cooking to coding.
II. Learning Opportunities
A. Workshops and Classes
Aberdeen is a city that values continuous learning, rain or shine. Even on the gloomiest of days, you can find workshops and classes that cater to a variety of interests. Check out local community centers, art studios, and educational institutions for scheduled workshops. From painting and pottery to cooking and photography, there's likely something that piques your curiosity.
Learning new skills is like planting seeds of personal growth. It boosts your confidence, expands your horizons, and adds a new layer of richness to your life. Whether you're exploring a new hobby or acquiring a professional skill, rainy days are ideal for focusing on self-improvement.
Here are a few examples of classes you might find in Aberdeen:
Cooking Classes: Learn to whip up delicious dishes from around the world.
Language Workshops: Consider becoming a bilingual expert with the help of a Spanish tutor in Aberdeen or by participating in online French classes to either start a new language or improve your existing proficiency.
Art and Craft Workshops: Explore your creative side through painting, pottery, or jewelry making.
Yoga and Wellness Classes: Nurture your body and mind with yoga, meditation, or fitness sessions.
B. Online Courses
On a rainy day when venturing out might not be appealing, online courses come to the rescue. They offer the flexibility to learn from the comfort of your home, at your own pace. Aberdeen residents have embraced online learning as a way to acquire new skills and knowledge without worrying about the weather.
If you're considering online courses, platforms like Coursera, Udemy, and edX offer a plethora of options. These platforms provide courses on a wide range of subjects, from business and technology to art and history.
Aberdeen's rich history and culture make for excellent learning opportunities. You might consider courses on Scottish history, traditional Scottish music, or even the Gaelic language to deepen your connection to this remarkable city.
III. Creative Pursuits: Embrace Your Inner Artist and Writer on Rainy Days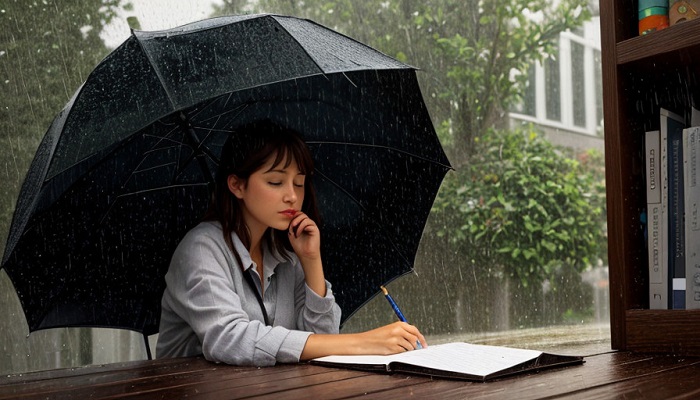 A. Art and Craft Studios
List studios that offer creative workshops.
Aberdeen is a hub for artistic expression, and there are numerous studios that offer creative workshops to cater to various interests. Some notable options include:
The Paintbox: Offering painting and drawing classes for all skill levels.
Aberdeen Ceramic Centre: Ideal for those interested in pottery and clay work.
Crafty Creations: Known for its diverse range of crafting classes.
Engaging in arts and crafts on a rainy day can have therapeutic effects on your mind and emotions. It allows you to:
Relieve Stress: The creative process can act as a stress reliever, helping you unwind and relax.
Enhance Focus: Crafting requires concentration, which can boost your mindfulness.
Boost Self-Esteem: Completing a creative project can provide a sense of accomplishment.
If you're looking for rainy-day project ideas, consider:
Painting a Rainy Scene: Capture the beauty of the rainy day on canvas.
Create Handmade Cards: Craft personalized cards for loved ones.
Build a Mini Indoor Garden: Assemble a terrarium with succulents and decorative stones.
B. Writing and Journaling
Writing is a powerful way to express your thoughts and feelings, making it an excellent activity for rainy days. The cathartic effects of writing include:
Emotional Release: Pouring your emotions onto paper can be incredibly cathartic and healing.
Self-Reflection: Writing encourages self-reflection, helping you gain insights into your inner world.
Creative Outlet: It provides a creative outlet for storytelling, poetry, or journaling.
Recommend places for quiet writing or journaling.
Aberdeen offers plenty of serene spots where you can indulge in writing or journaling. Consider places like:
Aberdeen Beach: Find a sheltered spot and listen to the waves as you write.
Duthie Park Winter Gardens: A peaceful indoor garden where you can journal amidst lush greenery.
Local Cafés: Cozy cafes like "Café Artysans" offer a warm ambiance for writing.
Provide prompts for rainy day writing.
If you're unsure where to start, here are some rainy day writing prompts:
Write a Rainy Day Poem: Capture the essence of the rain in verse.
Describe Your Favorite Rainy Day Memory: Relive a cherished rainy day from your past.
Create a Short Story: Craft a story that revolves around a rainy day adventure.
IV. Fitness and Wellness: Staying Active on Rainy Days in Aberdeen
A. Indoor Gyms and Fitness Centers
Aberdeen offers several fitness centers and gyms that welcome visitors with day passes. These include:
PureGym Aberdeen: Known for its modern facilities and flexible day pass options.
David Lloyd Aberdeen: Offers a wide range of fitness classes and premium amenities for day guests.
Aberdeen Sports Village: A versatile sports and fitness center with affordable day pass rates.
Highlight the importance of staying active.
Rainy days can often lead to a more sedentary lifestyle, but staying active is crucial for your overall well-being. Regular exercise:
Boosts Mood: Physical activity releases endorphins, which can improve your mood and reduce stress.
Maintains Health: Exercise helps you stay fit, reduces the risk of chronic diseases, and supports a strong immune system.
Increases Energy: Engaging in physical activity can increase your energy levels and combat feelings of lethargy.
When it's raining, you can still get in a great workout indoors. Consider these rainy day workout ideas:
Bodyweight Exercises: Perform exercises like push-ups, squats, and lunges that require no equipment.
Yoga or Pilates: These practices improve flexibility and strength while promoting relaxation.
Indoor Swimming: If you enjoy swimming, check out indoor pools for a rainy day swim.
Cardio Workouts: Try high-intensity interval training (HIIT) workouts to get your heart rate up without needing much space.
B. Yoga and Meditation Studios
When the rain falls in Aberdeen, it's the perfect time to find tranquility within. In this section, we'll explore how yoga and meditation studios can help you achieve inner peace and mindfulness, even on the gloomiest of days.
Yoga and meditation are like a soothing balm for the soul, especially on rainy days. Here's why:
Stress Reduction: Both practices are known to reduce stress and anxiety, allowing you to find calm amidst the storm.
Mind-Body Connection: Yoga encourages a strong mind-body connection, helping you feel grounded and centered.
Improved Focus: Meditation sharpens your focus, enabling you to find clarity even when the weather is cloudy.
Aberdeen has a variety of yoga and meditation studios that offer drop-in classes, making it easy for both beginners and experienced practitioners to find their zen. Consider trying out:
The Yoga Spot: Known for its welcoming atmosphere and a range of yoga styles.
Hot Yoga Aberdeen: Offers heated classes to deepen your practice and warm you up on chilly days.
Aberdeen Zen Group: Focused on Zen meditation, providing a serene space for mindfulness.
If you can't make it to a studio, you can still practice mindfulness at home on a rainy day. Here are a few techniques to get you started:
Breathing Exercises: Take slow, deep breaths to calm your mind and reduce tension.
Body Scanning: Mentally scan your body, focusing on each area to release tension and stress.
Guided Meditation: Use meditation apps or online resources to follow guided sessions from the comfort of your home.
Mindful Walking: If the rain lets up slightly, consider a mindful walk, paying close attention to the sensation of each step.
Conclusion
In the midst of Aberdeen's often rainy weather, it's easy to succumb to the temptation of curling up indoors and letting the day pass by. However, as we've explored in this article, rainy days need not be uneventful. In fact, they can offer the perfect backdrop for productivity, growth, and exploration.
Rainy days don't have to equate to unproductivity. Instead, they present an opportunity to engage in activities that stimulate your mind, nourish your soul, and improve your well-being. Productivity, even on gloomy days, is a testament to your resilience and determination. It's a reminder that you can make the most of any situation, come rain or shine.
As you face the next rainy day in Aberdeen, consider embracing the ideas we've discussed. Whether you choose to immerse yourself in Aberdeen's culture, embark on a learning journey, unleash your creativity, or focus on your fitness and well-being, there's a wealth of opportunities awaiting you. Don't let the weather deter you from making the most of your time in this vibrant city.
We value your input and would love to hear about your experiences and questions regarding rainy day activities in Aberdeen. Have you tried any of the suggested activities? Do you have additional recommendations or inquiries? Feel free to share your thoughts, and let's keep the conversation going. Your feedback is invaluable in helping us provide you with more tailored content in the future.
Remember, rainy days are not obstacles; they are invitations to explore new facets of Aberdeen and, most importantly, to discover new aspects of yourself. Embrace them with open arms and a curious spirit, and you'll find that even the grayest of days can be remarkably enriching.
Other Articles